A Warm Welcome to the Family Service


The Family Service creates structures enabling employees and doctoral students at the University of Freiburg to reconcile their professional and family lives. We provide information on childcare offers and the framework conditions for family support. Familienservice gGmbH, responsible for childcare facilities at the university, is part of the Family Service.
Family Service Office
The Family Services Office is part of the central university administration an answers directly to the head of the administration. In cooperation with other institutions of the university, the office supports family-oriented working conditions, a family friendly infrastructure and a management culture which is mindful of family-related needs of employees. The Family Services Office is a member of the working group for a family-friendly university (Arbeitskreis Familienfreundliche Universität) and implements the measures agreed upon. First and foremost, the Family Services Office wants to ensure the ongoing improvement of opportunities to promote the compatibility of family and work. This includes, for example, the organization of holiday camps for children of employees and doctoral candidates.
Familienservice gGmbH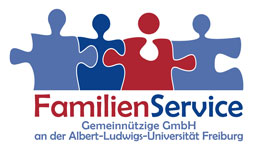 Familienservice gGmbH at the Albert-Ludwigs-Universität Freiburg (University of Freiburg) was founded in 2011 as a subsidiary of the university and has been responsible since then for four day-care centres at the university.
The aim of Familienservice gGmbH is to reconcile professional and family life by promoting family-friendly framework conditions at the University of Freiburg and, to a lesser extent, at other higher education institutions, at the University Medical Center Freiburg and at other scientific institutions in Freiburg.
With this in mind, the day-care centres run by Familienservice gGmbH open their doors to children with at least one parent who is either working or studying at the University of Freiburg or at another further education institution or at the University Medical Center Freiburg or at a scientific institution in Freiburg.
Familienservice gGmbH is a member of the 'Federation of German Welfare Associations' (Paritätischer Wohlfahrtsverband).
Adress
University of Freiburg Family Service
Werthmannstraße 8, rear building, ground floor
79098 Freiburg
Phone: (0761) 203 - 8550
familienservice@uni-freiburg.de